Of all the creatures in the sea, the whale is undoubtedly the animal that most appeals to our imagination. Although it is seemingly different from us, humans, in every way, we feel intensely connected to it.
Spread over two days, various organisations in Ostend organise lectures, concerts, workshops and film screenings with the whale as the central theme.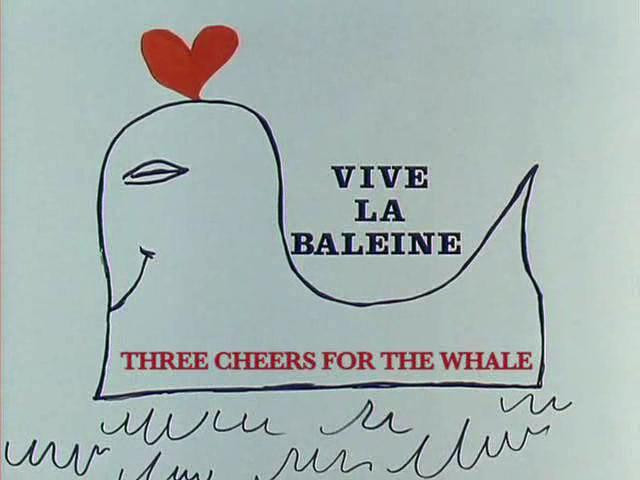 Whale Watch 1
Duration 59'
WHALE WATCH (2) – Joseph Bernard – USA, 1981 – Super 8 to digital – silent – 11'
MOILSOME TOILSOME – Stan Brakhage – USA, 1999 – 16mm – silent – 5'30''
AANGESPOELDE WALVIS KOKSIJDE – VRT – BE, 1989 – Nederlands – 1'30''
A BOILED SKELETON – Jessica Sarah Rinland – UK, 2013 – English – 4'
TRUNKO OR GLOBSTER CALLED WAS FOUND DEAD ALONG THE COAST OF DINAGAT, PHILIPPINES SEA – Mobi Wrp – 2017 – YouTube – 0'28''
KUJIRA (WHALE) – Noburō Ōfuji – JP, 1952 – 35mm to digital – 8'30"
VIVE LA BALEINE (THREE CHEERS FOR THE WHALE) – Mario Ruspoli & Chris Marker – FR, 1972 – digital restoration – French with English subtitles – 18'
WHALE/WAIL – Paul Turano – USA, 1995 – 16mm – no dialogue – 9'
Whale Watch 2
Duration 59'
WHALE WATCH (1) – Joseph Bernard – USA, 1981 – Super 8 to digital – silent – 11'
SOUND OVER WATER – Mary Helena Clark – USA, 2009 – 16mm – no dialogue – 6'
FRAGMENTS OF A DREAM ANALYSIS – Eva van Tongeren – BE, 2019 – digital – English – 13'23
A SURPRISE DIVING ENCOUNTER WITH A GIANT HUMPBACK WHALE – Westh2o – 2012 – YouTube – 4'19''
BORROWED TIME – Sema Bekirovic – NL, 2014-15 – silent – 11'
WHALE JUMPS OUT OF NOWHERE DURING SIGHT SEEING TOUR – Maasai Sightings – 2018 – YouTube – 2'22"
TAHLEQUAH – Dominique Knowles – USA, 2020 – digital – English – 10'
Film
06/05
20:00

WHALE

WATCH

1 in

KAAP
07/05
20:00

WHALE

WATCH

2 in

KAAP
In two film programmes, we look at whales, at people who look at whales, at people who help whales and whales who help people, at people who dream about whales and wonder what this means. Films in 16mm are alternated with news items and YouTube videos.
Performance
07/05
19:00

TIMMY

VAN

ZOELEN

in

OHK
Some years ago artist Timmy van Zoelen wrote a text about a particular print titled A Sperm Whale Beached near Berkhey on 3 February 1598, by Jacob Matham after a drawing by Hendrick Goltzius. It is believed that Goltzius went to visit the beached whale and made sketches of it, something which is considered quite unique for an artist of his status. In the lecture at OHK we hear a voice reflecting on the etching, while Timmy Van Zoelen revitalises the whale.
07/05
21:30

THE

NEALIONS

in

OHK
Deriving from the eclectic salt waters of the Ostend jam scene, Oli Lannoo, Brecht Goeman, Thomas Vandenhoeke and Dries Vienne set out to fuse retro synth sounds, psych-, post- & stoner rock. Constantly tweaking their sound to tune in to the cosmic vibes of the electric Gods, The Nealions take you on a kitschy sci-fi trip. Exotic, sometimes mellow, other times brutal and ever enticing.
For this performance they will break through the safety of the setlist and embrace The Omnipotent Space Whale as their devine muse.
Workshop
07/05
13:00 – 17:00

DUMBO

OCTOPUS

in

OHK
Have you ever heard of the Dumbo Octopus? Or the Blobfish? The Great Beak and the Vampire Fish? As the largest creature in the sea, the whale has many friends. Together we make up a few more. We make collages of our sea creatures and turn them into slide projectors! We conclude the workshop with a small exhibition.
Age range: 7-12. Maximum 15 participants. Guidance: Mie Ghesquiere and Erien Withouck.
Registration is free and can be done via info@monokino.org.
Individual screenings cost €10 or €7 with discount. A festival pass for all events costs €20 or €15 with discount. You can order passes and tickets via Wicket. You can contact info@monokino.org for more info.
An initiative by Monokino, in collaboration with OHK, De Letterie and KAAP.
With the support of Vlaams Audiovisueel Fonds.
SUPPORT — We currently work without subsidies, so your support is more than welcome and literally brings light to the screen:
BE80 7340 4532 5277 BIC: KREDBEBB
Payment reference: 'Gift'.
Gifts above the sum of € 40 are tax deductible.
A gift of € 100 will only cost you € 55.
Artistic coordination: Anouk De Clercq, Godart Bakkers
General coordination: Ditte Claus
Artistic team: Eric de Kuyper, Erien Withouck, Xavier Garcia Bardon
Production team: Bob Mees, Jef Declercq, Johan Opstaele, Noah Heylen
Graphic design: Michaël Bussaer. Webdesign: Dominique Callewaert.
With the support of Auguste Orts, CINEMATEK, KAAP, KASK School of Arts Gent, Onderzoeksfonds Universiteit Gent, Vlaams Audiovisueel Fonds.
Whoever walks in Ostend today is confronted with a fantastic eclecticism: a brutal grey apartment block exists next to the glorious Thermae Palace. The mighty, almost Stalinist, building of De Grote Post dominates the Hendrik Serruyslaan. A former department store houses a museum for contemporary art. Belle-époque houses are hidden in the quiet but stately streets.
In 2017, one void struck artist Anouk De Clercq: that glorious film culture of Henri Storck, James Ensor or Raoul Servais had disappeared from the streets. With the closure of the Rialto cinema, the last independent cinema from the Ostend cinema circuit also disappeared. Against such an extraordinary backdrop, with the sea as a large projection surface for images, stories and histories, that is such a shame.
And so the idea of Monokino ripens: one room, marked by an equally fantastic eclecticism, where cinema can be itself again. One room where long and short films, film classics, auteur cinema, video art, experimental films, animation, or the work of young makers can find a place. Monokino shows, questions, responds, engages in conversation, invites, welcomes, puts in perspective. Monokino is a place of, by and for people from Ostend, for professionals and enthusiasts, for young and old, for those from here and those from there.
The films that Monokino wants to show don't only live on the screen. They also spread between residents, spectators, and makers. In that sense, Monokino is also Kopfkino: a mental cinema, where images get the chance to live and multiply.
That's how Monokino drifts nomadically through those eclectic streets of Ostend and settles in the heads and hearts of the people of Ostend. Soon it'll moor for good.
Monokino wants to drive cinema into the 21st century and illuminate the adventurous side of film. While we strive for a permanent place as anchorage for cinefiles from Ostend and beyond, Monokino operates as a nomadic film platform.
The sea is Monokino's favourite projection surface for images, stories and histories. In anticipation of our next screening, we've started to collect a list of films in which the sea plays a main or supporting role. Can you think of a film that's not already on our list? We'd love to hear about it via info@monokino.org.