Crystal Voyager is a mystical journey into the mind of surf legend George Greenough and his radical mission for a place where he can surf in peace. The sun, the sea and the soundtrack will kick the winter blahs.
CRYSTAL

VOYAGER




DAVID

ELFICK

— AU, 1973 – 16mm — 78'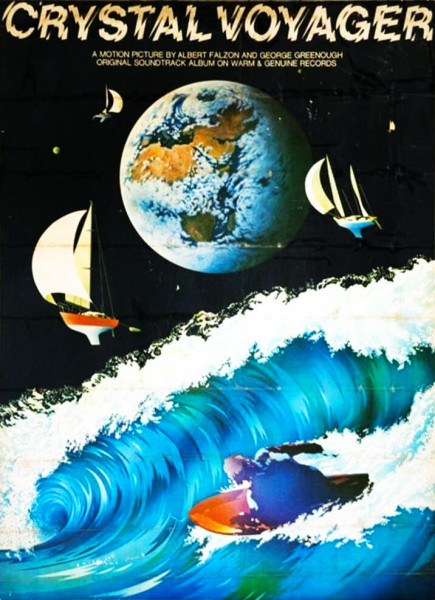 "You might be in there for only a few seconds in real time but in your head it goes on for hours. It's a timewarp when you're inside the wave. Time enters a space, a zone of its own. The only reality is what is happening right then."
| | | | |
| --- | --- | --- | --- |
| 18/02 | 20:00 | KAAP | Oostende |
Crystal Voyager is a mystical journey into the mind of surf legend, eco-warrior and original Renaissance man George Greenough. As a lonely surfer from California who moved to Australia, Greenough opened a new chapter in modern surf history when at the end of the 1960s he started designing surf fins patterned after the tail fins of tuna. The idea turned out to be a game changer.
Set to a remarkable soundtrack of 70ies music, we follow him as he builds a boat to sail to remote spots where he can surf in peace and live from the ocean. The balance between heart-stopping visual imagery and music is as finely-poised as the movements of the surfer himself. Where many filmmakers in this genre attempt to document powerful physical achievements and cast the protagonist as hero and the viewer as passive onlooker, the intimacy of David Elfick's approach invites us to share the exploration and ecstasy of moving through the waves. For those who have no experience in surfing, it is such a joy seeing George Greenough express immense passion for the things that bring him happiness.
Crystal Voyager also sheds light on the surfers' environmental awareness and DIY ethic, captured in a documentary way. But it is also a rarely screened artefact in the history of psychedelic art, which stands at the unexpected crosspoint of the surf film genre and experimental cinema. It is not surprising to learn that Greenough and Elfick, who had ties with the Australian underground film scene of the time, felt the need to show their footage to Californian legendary cosmic filmmaker Jordan Belson.
The final 23 minutes of the film are some of the most beautiful images ever seen. Here, Greenough, as a pioneer of surf cinematography, shares the ecstasy of riding the waves and lets us enter the tube. Set to Pink Floyd's Echoes, which the band allowed Elfick and Greenough to use free of charge in trade of some footage to be screened during their shows, we literally dive into nature's own hallucinogenic, psychedelic sci-fi show.
What is now easy to capture using miniature cameras was more than challenging to accomplish half a century ago, using analog equipment. By hacking a high speed military camera, originally made for filming the horror of bombs being dropped over Vietnam, Greenough painstakingly built a heavy waterproof device which allowed him to record the full beauty of the oceanic experience, devising a filmic equation where the surfing, the cinematic, the cosmic and the abstract converge.
Tickets are €10 of €7 with discount and for sale via Wicket. You can contact info@monokino.org for more info.
SUPPORT — We currently work without subsidies, so your support is more than welcome and literally brings light to the screen:
BE80 7340 4532 5277 BIC: KREDBEBB
Payment reference: 'Gift'.
Gifts above the sum of € 40 are tax deductible.
A gift of € 100 will only cost you € 55.
Artistic coordination: Anouk De Clercq, Godart Bakkers
General coordination: Ditte Claus
Artistic team: Eric de Kuyper, Erien Withouck, Xavier Garcia Bardon
Production team: Bob Mees, Jef Declercq, Johan Opstaele, Noah Heylen
Graphic design: Michaël Bussaer. Webdesign: Dominique Callewaert.
With the support of Auguste Orts, CINEMATEK, KAAP, KASK School of Arts Gent, Onderzoeksfonds Universiteit Gent, Vlaams Audiovisueel Fonds.
Whoever walks in Ostend today is confronted with a fantastic eclecticism: a brutal grey apartment block exists next to the glorious Thermae Palace. The mighty, almost Stalinist, building of De Grote Post dominates the Hendrik Serruyslaan. A former department store houses a museum for contemporary art. Belle-époque houses are hidden in the quiet but stately streets.
In 2017, one void struck artist Anouk De Clercq: that glorious film culture of Henri Storck, James Ensor or Raoul Servais had disappeared from the streets. With the closure of the Rialto cinema, the last independent cinema from the Ostend cinema circuit also disappeared. Against such an extraordinary backdrop, with the sea as a large projection surface for images, stories and histories, that is such a shame.
And so the idea of Monokino ripens: one room, marked by an equally fantastic eclecticism, where cinema can be itself again. One room where long and short films, film classics, auteur cinema, video art, experimental films, animation, or the work of young makers can find a place. Monokino shows, questions, responds, engages in conversation, invites, welcomes, puts in perspective. Monokino is a place of, by and for people from Ostend, for professionals and enthusiasts, for young and old, for those from here and those from there.
The films that Monokino wants to show don't only live on the screen. They also spread between residents, spectators, and makers. In that sense, Monokino is also Kopfkino: a mental cinema, where images get the chance to live and multiply.
That's how Monokino drifts nomadically through those eclectic streets of Ostend and settles in the heads and hearts of the people of Ostend. Soon it'll moor for good.
Monokino wants to drive cinema into the 21st century and illuminate the adventurous side of film. While we strive for a permanent place as anchorage for cinefiles from Ostend and beyond, Monokino operates as a nomadic film platform.
The sea is Monokino's favourite projection surface for images, stories and histories. In anticipation of our next screening, we've started to collect a list of films in which the sea plays a main or supporting role. Can you think of a film that's not already on our list? We'd love to hear about it via info@monokino.org.